Medicare Supplement Plans (Medigap)
Medicare Supplement policies (also known as Medigap policies) are standardized and must follow federal and state laws designed to protect you. Insurance companies can only sell you a "standardized" policy identified in most states by letters*.
All policies offer the same basic benefits but some offer additional benefits, so you can choose which one meets your needs. There are many options from which to choose, contact one of our licensed insurance agents to help you understand the differences between the plans so that you can decide on the right plan for you. 
A Medicare Supplement plan can help pay some of the health care costs that Original Medicare doesn't cover, like co-payments, coinsurance, and deductibles. If you have Original Medicare and you buy a Medicare Supplement, Medicare will pay its share of the Medicare-approved amount for covered health care costs and your Medicare Supplement will pays its share.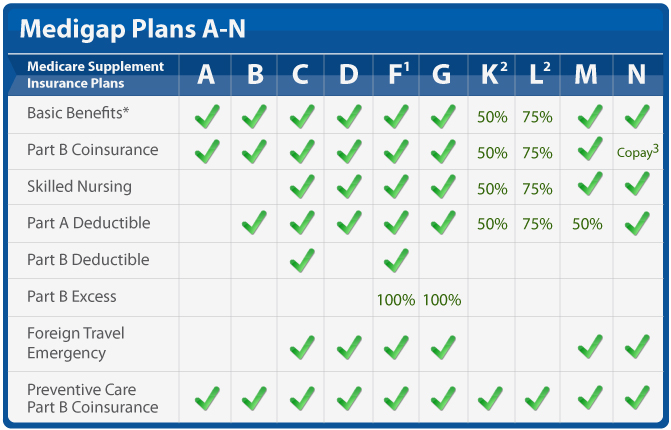 1) Plan F also offers a high-deductible plan. If you choose this option, this means you must pay for Medicare-covered costs up to the deductible amount of $2,300 in 2019 before your Medigap plan pays anything.
2) Plans K and L have an annual out of pocket limit. For 2019, those amounts are $5560 (K) and $2780 (L). Once you meet that amount, in addition to meeting your Medicare Part B deductible ($185/year for 2019), the plan pays 100% of covered services for the rest of the calendar year.
3) Plan N pays 100% of the Part B coinsurance, except for a co-payment of up to $20 for some office visits and up to a $50 co-payment for emergency room visits that don't result in inpatient admission.
* In Massachusetts, Minnesota, and Wisconsin, Medigap policies are standardized in a different way.
Source: www.medicare.gov
By contacting the phone number on this website you will be directed to a licensed agent.